No comments
ZodiacMundi, The Adventure Begins with You.

"ZODIACMUNDI"
THE ADVENTURE BEGINS WITH YOU
Do you want to know how?
The first step you will have to take to embark on this journey full of adventure is to collect a map of the island from us at reception and with it you will be able to explore all the wonderful corners of our beautiful island.
Ah! And one thing you musn't forget to put in your bags are loads of sunscreen, water and lots of enthusiasm.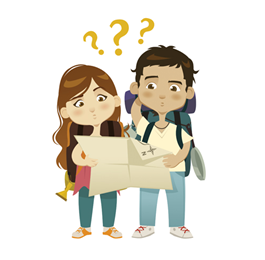 Every "ZodiacMundi" has their own taste and preferences and definitely their own personal style and for this reason we have chosen to recommend a few of the most special and wonderful places on the island to help you create your own itinery. All of the various options we recommend will most definitely make your holiday a memorable one!

Every route is unique, just like you are
  BEACH CLUBS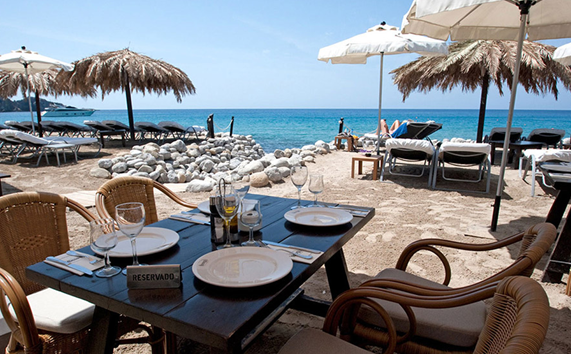 Yemanja
At the south of the island, near the airport, (Cala Jondal) you will find Yemanja, a beach club where not only will you be able soak up the rays on their comfortable sun loungers but where you can also enjoy a great meal at their restaurant and order a fantastic cava sangria, one of the best on the island…
They have a big parking area and the prices at Yemanja are quite reasonable.
YEMANJA (Cala Jondal) S/N,  Sant Josep de Sa Talaia, Tfno 971 18 74 81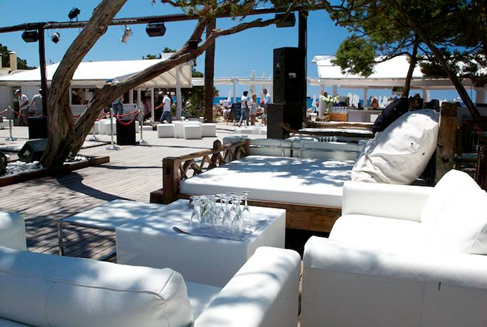 Blue Marlin
Next to "Yemanja" you will see that there is another beach club. This is the famous "Blue Marlin". Here you can also relax either on standards sunbeds or on their unique round beds. You can enjoy a great meal or simply just order a cocktail and chill out.
Sunday is the busiest day of the week at Blue Marlin for which we recommend if you chose to go on a Sunday get there quite early. The great atmosphere and music will most definitely trap you here until midnight (hour at which it closes). Blue Marlin also has it's own parking area. As opposed to "Yemanja" Blue Marlin is a bit pricier and we recommend you call to make a reservation.
BLUE MARLIN (Cala Jondal) S/N, Sant Josep de Sa Talaia  Tfno +34971410117.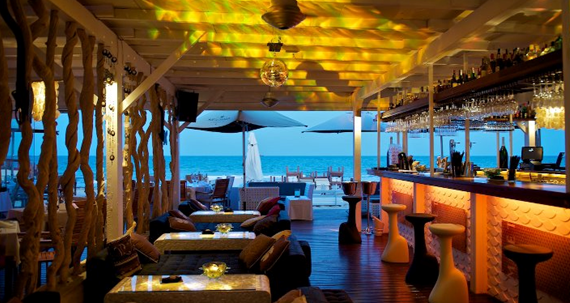 Nassau
We leave the south and head off to one of the busiest parts of the island in the summer months, Playa den Bossa (Ibiza).
Ushaia is situated on this beach, the famous 5 star hotel where some of the best dj's in the world get together and perform at some of the best parties held on the island.  Here you will find a variety of beach clubs catering for all different ages, tastes and styles. Playa den Bossa is an extremely busy place, however, at the far end of the beach there is a more chilled out vibe where you can spend the day sunbathing or simply just drop in and have a drink. One of the best is this one, Nassau.
NASSAU (Playa den bossa) – Ibiza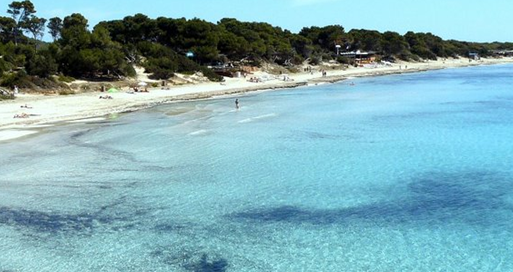 Malibu – Jockey – Guarana- Chiringay
If you fancy spending the day on the longest beach on the island then you have to head off to the south, near the airport and there you will find Las Salinas. (The Salt Flats)
Here you will find various beach clubs all with good music, restaurants, masage service…
We recommend you visit this beach at least once while on holiday as this is where the islands night clubs do their daily parades promoting their parties and events. It's fun and original and definitely an eye opener. This is Ibiza!!!
Ses Salines (Ibiza)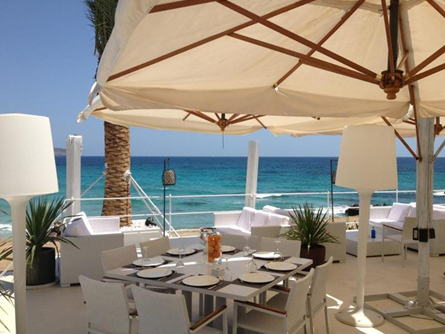 Atzaró Beach (Cala Nova)
Close to Santa Eulalia, in the Es Cana area (North-East) you will find a lovely little beach called "Cala Nova" renowned for it's crystal clear waters, its beauty and tranquility.
At Cala Nova you can not only enjoy a day at the beach but also experience the unique culinary delights that Atzaro beach club has to offer, one of the most highly regarded on the island.
ATZARÓ – Es Restaurant -  (Cala Nova)
TO SEE A GREAT SUNSET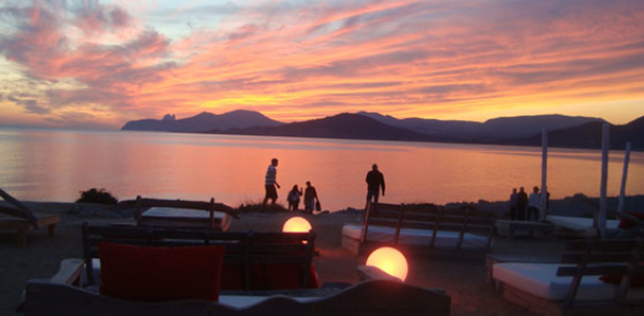 Cap Des Falco
If you decide to go and spend the day at Las Salinas, remember that on your way back home in the afternoon you can stop off to watch the sunset at "Cap des Falco", a beautiful and special place right on the water's edge where you will enjoy a most spectacular sunset.
CAP DES FALCO (Ses salines)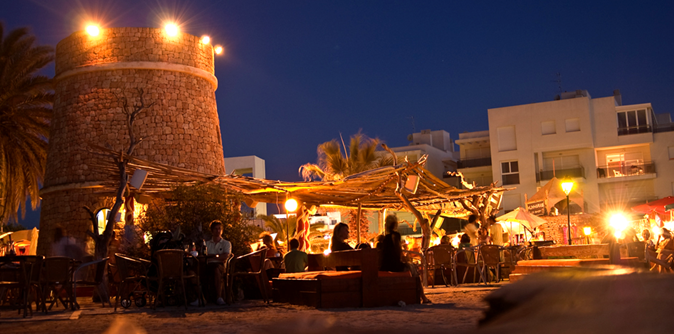 Kumharas
Another popular place to watch a beautiful sunset from a different angle is "Kumharas", in San Antonio (in the North-East). A place with a truly unique ambience and a very bohemian feel to it. Here you will be able to chill out and enjoy a cocktail or a beer while watching the sun go down and even stay for a meal
KUMHARAS (San Antonio)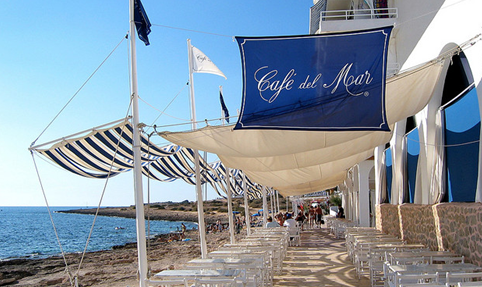 Café del Mar
You have probably heard that a "must" while in Ibiza, apart from a swim at "Cala Conta", is to watch a sunset at "Cafe del Mar"
For this you will have to make your way to San Antonio (North-East) where you will find that just near the bay is a strip of sunset bars, lounges and restaurants.
If you decide to watch the sunset here we advise you to get there early as it's a very popular place.
CAFÉ DEL MAR Carrer de Lepant, 27, (San Antonio)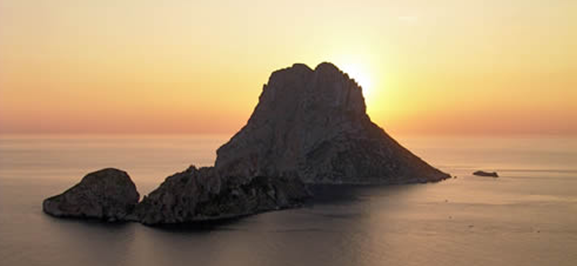 Es Vedra
Ibiza's mystical island, shaped like a dragon and situated just 2km off the West coast of Ibiza. Shrouded in myths and legends, it is said to be an extremely magnetic spot and whose view from the coast of Ibiza is awesome!
There are various points from where the view of Es Vedra is spectacular, up high on the cliffs or even from the pirate tower. This is no doubt one of the best places to catch an amazing sunset… All your photos will be INCREDIBLE!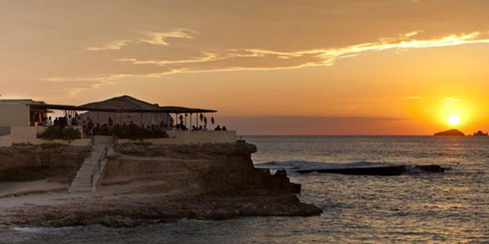 Sunset Ashram
Cala Conta beach is most definitely one of Ibiza's gems! Famous for its beautiful turquoise crystal clear shores, this place will take your breath away.
"Sunset Ashram", with its panoramic views, is one of the most beautiful places on the island from which to enjoy a stunning sunset. A place that offers you, not only spectacular views, but where you will enjoy great live music, cocktails and even a bit of shopping at their little Ibicencan hippy style shop. A combination not to be missed!
SUNSET ASHRAM (Cala Compte)
LUNCHTIME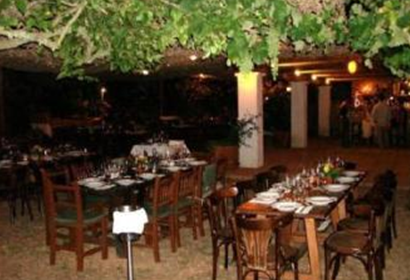 Es Balafia
If you like meat, then "Balafia" is the place for you, as it specialises in succulent meat dishes.
Family run and considered one of the best Ibicencan restaurants on the island, it represents the real spirit of Ibiza.
With a very simple menu, consisting of no more than 4 to 5 dishes, Balafia is special as most of their produce is home grown by the family themselves guaranteeing top quality and freshness.
ES BALAFIA   Sant Joan de Labritja Road / Tfno 971 325 019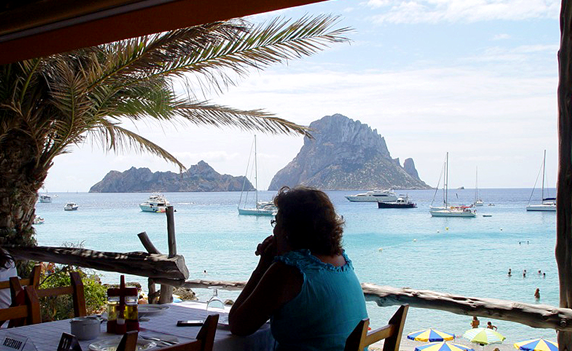 Restaurante El Carmen
Situated on "Cala D'Hort" beach (South-East of the island). This tiny sandy beach is full of beauty and charm. What makes this place unique is the magnificent view of the mysterious island of Es Vedra, just off shore. Sit and admire the panoramic view while you enjoy a fabulous seafood paella, something which El Carmen is famous for alongside its tasty alioli (garlic mayonaise).
EL CARMEN – Cala D´hort (Sant Josep de Sa Talaia) Tfno 971 187 449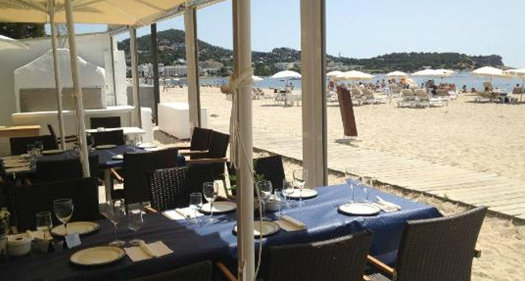 El Barco
If you are in and about Ibiza Town for the day and fancy a tasty paella, just pop over to Talamanca Beach (walking distance from Ibiza centre) to El Barco and order a fish paella or a mixed one (meat and fish).
Here the quality and service is outstanding, although the beach is quite a busy one being so close to the town centre.
EL BARCO –  Talamanca (Ibiza) / Tfno 971 313 573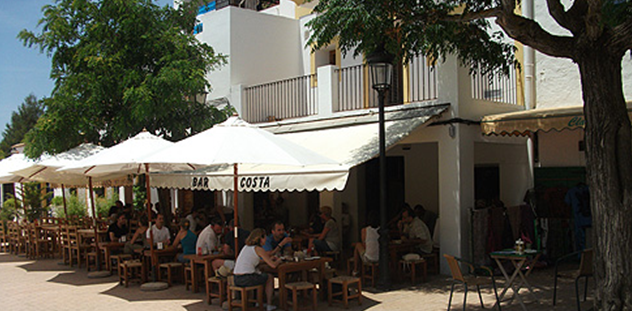 Bar Costa
If you wake up one morning and feel like exploring villages and sites further inland, we highly recommend Santa Gertrudis. A small and quaint village right in the centre of the island and not far from Santa Eulalia.
If it's lunchtime,(or even evening time) a must would be to make a stop at "Bar Costa" a restaurant-Bar right opposite the village's church. Bar Costa is famously renowned for its "jamon serrano" (parma ham) and "manchego" cheese "bocadillos" (crusty bread sandwiches).
BAR COSTA – Plaça de l'Esglèsia, s/n (Santa Gertrudis) / Tfno 971 197 021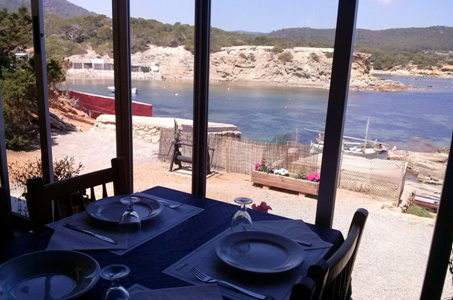 Restaurante Salvadó
If you wish to experience typical Ibicencan food, its ancient culinary customs and traditions then a visit to "Restaurante Salvado" is a definite must. Located in the beautiful and peaceful Pou des Lleo on the North-East side of the island.
Sit and relax right on the waters edge overlooking the bay and quaint fisherman's huts
Here you will enjoy barbequed meats and a variety of fish dishes of which their speciality is "Bullit de peix" and "Paella".
If you enjoy a good hearty meal then don't miss this place and book now!
RESTAURANTE SALVADÓ Playa Canal d'en Martí – Pou des Lleó- (Sant Carles)
Tfno  971 187 879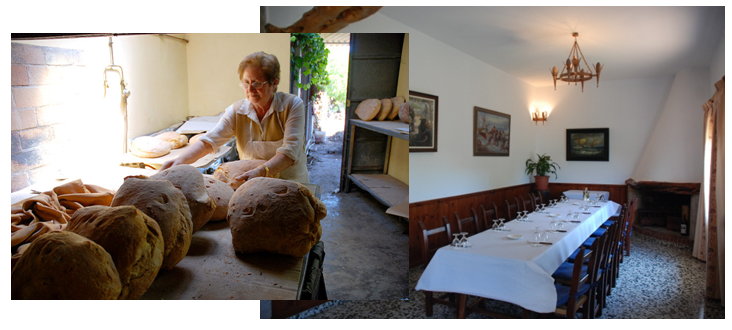 Restaurante Es Pins
To get to know the roots of the Ibicencan cuisine and its history then what better place than "Es Pins".
Margarita and Joan, a couple from San Lorenzo, first opened the doors to this typical Ibicencan restaurant, as a modest bar in the 70′s serving homemade dishes such as stews, paellas and their famous "Pan Payes" (Ibicencan bread)
To this day Es Pins remains a humble and simple restaurant offering traditional Ibicencan dishes.
RESTAURANTE ES PINS – Carretera Sant Joan, Km 14,8 (San Lorenzo)
Tfno 971 325 034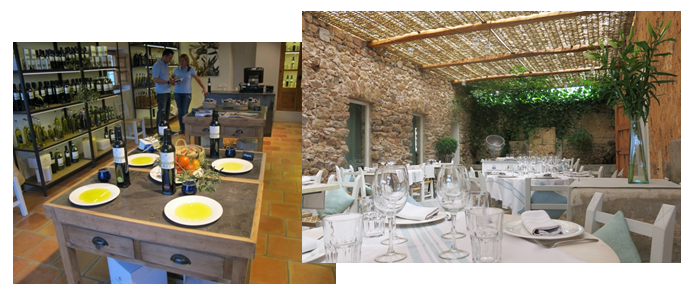 Ses Escoles
You can become a "Payes" (Ibicencan farmer) for a few hours here at Ses Escoles. A traditional Ibicencan house, originally the local school, recently converted into a restaurant where they also produce their own olive oil. You can visit the premises and not only watch the whole process of the production of the oil but also taste the end product of this "liquid gold"!
Ses Escoles serve meats, "cocas" (Ibicencan style pizzas), cold meats and vegetables all of which is local produce.
They have a little shop on the premises where they sell their olive oil and other Ibicencan produce such wines, perfumes and last but not least our famous Ibiza salt!  
SES ESCOLES  Ctra. Vella de Portinatx, (Sant Joan de Labritja) Tfno 871 87 02 29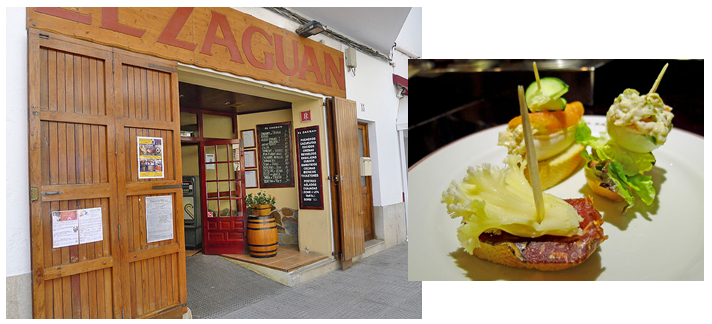 El Zaguan
If you are in Ibiza town and fancy a quick bite to eat then stop off at "El Zaguan" a tavern that specialises in "Vasc" cuisine that serves a variety of cold and hot tapas from all regions of Spain. Either order from the menu or enjoy  tasting some of the "pintxos" (little individual tapas served on bread, held in place by toothpicks) which they bring round on plates for you to choose from.
The concept is, you chose your "pintxos" and save the toothpicks. You will then be charged depending how many toothpicks are left on your plate!
Zaguan is close to the Taxi rank in Ibiza town and you don't need to book a table, just walk in, have a beer at the bar and as soon as there's a free table the staff will get you seated!
EL ZAGUAN – C/ Bartolome Roselló 15
DINNER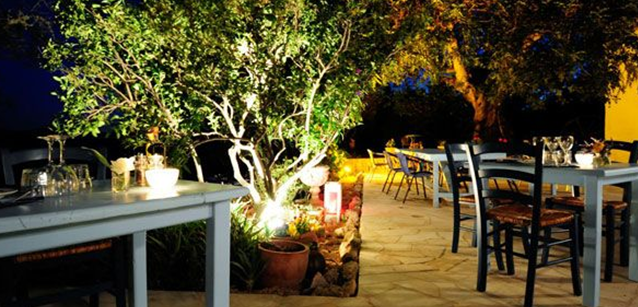 La Paloma
If you're looking for somewhere quiet and romantic, hidden away from the hussle and bussle, then "La Paloma" is the place for you. This lovely quaint restaurant is situated in the little village of san Lorenzo (North of the island) and offers a mediterranean cuisine.
You need to book a table before hand.
LA PALOMA C/ Can Pou, 4, Sant Joan de Labritja. TFNO 971 32 55 43  www.palomaibiza.com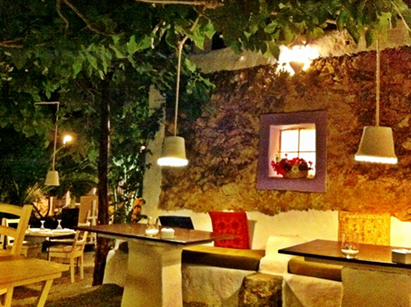 La luna Nell ´Orto
The name of this restaurant says it all, we are talking about Italian cuisine. It is situated in San Joan de Labritja, a village in the northern interior part of the island. A small restaurant, with tables laid out under a huge fig tree, here you will enjoy the flavours of Italy while enjoying some live music. If you fancy dining here you must book a table before hand.
LA LUNA NELL´ORTO (Sant Joan de Labritja)  Carretera del Puerto s/n, www.lalunanellorto.com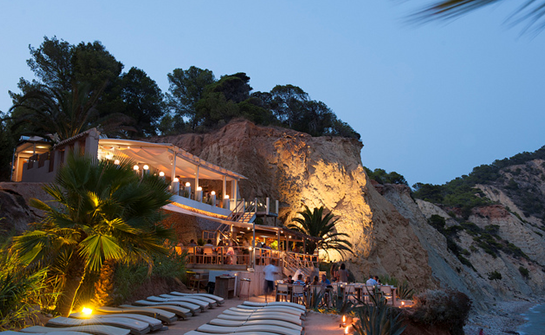 El Amante
Situated on the edge of the mountain overlooking a small pebble beach in the Sta. Eulalia district, the name captures the essence of this restaurant, the ideal place for a romantic meal.
A perfect place to visit either by day or night. If you visit on an evening, besides enjoying a great meal you could also enjoy a classic movie at their outdoor cinema! No words can describe how spectacular the views are from "El Amante"…..You just have to go and experience it first hand.
EL AMANTE   Sol Den Serra C/Fuera s/n  (Santa Eulalia)

Ayoun
A restaurant where a mixture of cultures meet. Here you will be able to experience the fusion of Meditarrenean, Arabic and Japanese cuisine. It is also an ideal place for a first drink before a night out on the town!
You will find Ayoun in San Rafael, a small village in the middle of the island.
EL AYOUN – Avinguda Isidor Macabich, 6 (San Rafael) Tfno  971 19 83 35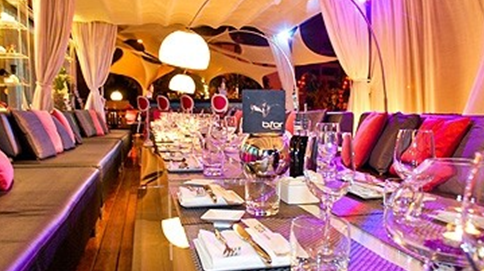 B- For 
A highly reputable venue which has become one of the islands most popular and well known Sushi restaurants. Here you will experience delicious and original creations of Japanese cuisine with a Mediterranean touch while enjoying the elegant and sophisticated decor of this minimalistic designer restaurant.
B-For is situated just a few metres away from the famous "Pacha" nightclub in Ibiza. They also offer a take away service if you would prefer a quiet meal at home.
B-FOR  Avenida 8 de Agosto (Ibiza) Tfno 971 09 92 20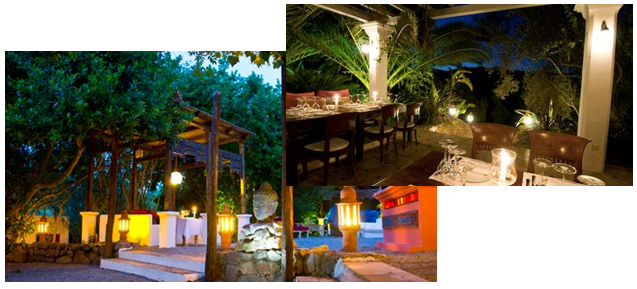 Casa Colonial
Between Santa Eulalia and Ibiza you will come across the perfect restaurant to celebrate either an anniversary, a special occasion or a treat pampering yourself with a special evening out at Casa Colonial.
Located on a small hill, surrounded by Balanese style tropical gardens, here you will enjoy a unique fusion of Thai and Meditarranean-French cuisine brought together by its owners who moved here from Germany and France to offer this unique experience here on the white island.
CASA COLONIAL – Carretera de SantEulària, kilómetro 2 (Santa Eulalia)
Tfno. 971 338 001 – 646 377 695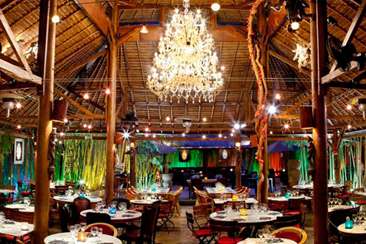 Bambuddha Ibiza
If you're looking for a unique experience, where all your senses gain strength and momentum then this is for you!
Located in the centre of the island, Bambuddha have opted for the concept of Restaurant/Temple. Both the decor and style, together with the music and fusion between Thai/Japanese and Spanish cuisine, will transport you to somewhere between Bali and Thailand!
Awarded with the White Ibiza Awards as "Best and most luxurious Restaurant in 2013". Bambuddha is the perfect option to celebrate private events and special occasions or simply enjoy a romantic meal for two. The ideal place where you can let yourself go by the magic and spirituality of the place.
BAMBUDDHA IBIZA – Carretera de San Juan, km8.5 (Santa Eulalia del Río)
Other places we recommend if you are in the port area of Ibiza!
Pinocho
One of the best Italian restaurants in Ibiza. Simple, cheap and
with a great variety of dishes on their menú.
Los pasajeros
If you fancy having a meal out in a young and vibrant place and have some fun then this is the place for you. It is situiated on the first floor of a building in the port area. As it's location is not easy to find you will have to ask for directions from neighbouring places in the área.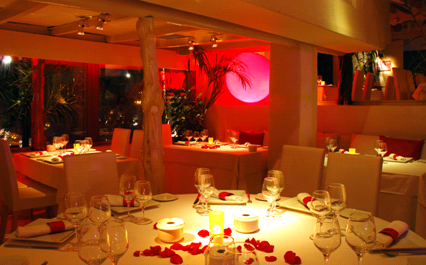 Pacha
If you dine at Pacha any day except Thursdays you are given free entrance to the club…They have two Restaurants at Pacha, one which serves international food and the other Sushi. Both are extremely good.
Casa Juan
This is Ibiza's legendary bar. It is a simple place that serves typical Ibicencan cuisine, where you share your table with other guests. We suggest you get there early as there is no reservation service and it is extremely popular.
IF YOU ARE IN THE ES CANA AREA (SANTA EULALIA)
For those days that you decide to stay in Es Cana and enjoy some of the beautiful little bays and beaches in the area, when you don't fancy driving anywhere to find a place to eat or have dinner, here are a few restaurants in the area we can recommend.
IL Carrettino Siciliano
A great choice if you are spending a day on the beach and need a boost of carbohydrates to replenish your energy levels. Il Carrettino Siciliano is an authentic Italian restaurant where you will be served generous portions at very reasonable prices. Situated on the main street in Es Cana you will be welcomed and looked after by the owners of this family run restaurant….and once you've finished your meal you will most definitely be offered a couple of free shots of limoncello! 
IL CARRETTINO SICILIANO – Ctra. Punta Arabi 13, Es Canar (Santa Eulalia)
Pad Thai
New to Santa Eulalia this year is "Pad Thai" and has received great reviews from the locals. A fabulous Thai restaurant that offers a wonderful selection of authentic homemade Thai dishes at very reasonable prices.
Located near the harbour area of Santa Eulalia, this little, family run restaurant is definitely worth a visit.
Brisamar
If you're travelling with your family you can spend a relaxing and fun day on Es Cana beach.
Right on the waters edge Brisamar offers typical Ibicencan and Mediterranean food and is famous for its fish dishes and paellas. Open lunch times and evenings we highly recommend to finish the day with an evening cocktail in their chill out zone.
BRISAMAR – Playa de Es Canar  Tfno  971 332 604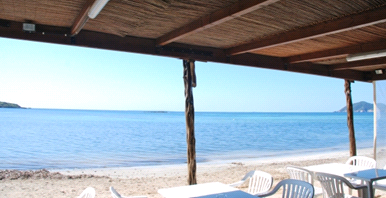 Sa Trenca
Another beach close to Es Cana is Cala Martina Beach. Here you will find Sa Trenca, a restaurant that specialises in Mediterranean food (fresh fish, seafood, paellas and meat dishes). Right on the waters edge this is a place where you can enjoy a great meal while you sit back and relax listening to the soothing sounds of the Mediterranean Sea.
SA TRENCA – S'Argamassa, S/N (Santa Eulalia)  Tfno 971 331 393  
FIRST DRINK OF THE EVENING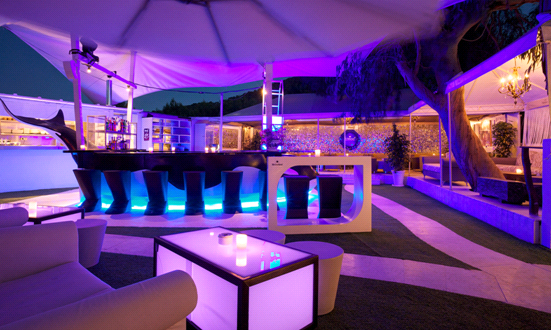 Km 5
Another legendary place on the island which is a must to visit is Km5, a bar on road to Sant Josep. The perfect place to have a drink after your evening  meal. Here you will enjoy the relaxing atmosphere while sitting outdoors and chilling out.
KM 5 – Ctra. Sant Josep, km 5.6, (Sant Josep de sa Talaia) Tfno 971 39 63 49

Lio
Relatively new to the island, the impact that "Lio" has had on Ibiza in such a short period of time is nothing short of extraordinary and has become one of the most reputable places on the island over the last few years. This restaurant, owned by the "Cherry Group" (Pacha), has brought a new concept to the island.
A restaurant with a touch of glamour and theatre, you dine while you watch a cabaret, something which takes everyone by surprise with its varied shows organised every night. From dancers, singers, contortionists and even comedy and erotic shows this place will take you by surprise.
The shows take place while you dine, although you can still just pop in for a drink and enjoy the show until midnight after which the Dj's take over until 3am in the morning.
The dress code is strictly elegant.
LIO  Passeig Joan Carles I (Ibiza) Islas Baleares  
Keeper
If you think the Ibiza music scene is solely house music or electronic, and you prefer pop, spanish or latin music then "Keeper" is the place for you.
It is situated in the "Botafoc" harbour area, very near "Lio" and "Pacha".
This bar, with outdoor terrace space, is the ideal place to stop off for a quiet drink before heading off to Pacha or other clubs.
KEEPER Passeig Joan Carles I, (Ibiza)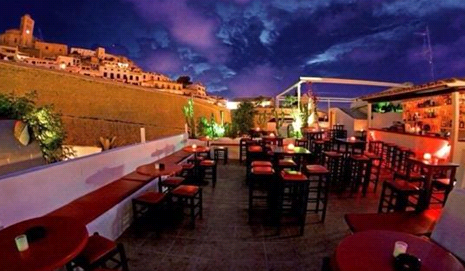 Tira Palla
In the harbour area of Ibiza there are a variety of bars where you can enjoy having a drink or two, but if what you're looking for is more of a quiet relaxed place away from all the "hussle and bussle" then "Tira Palla" is the perfect option.
A roof terrace, situated directly opposite the Cathedral and the old town of Ibiza. It's a wonderful place to sit back and enjoy a cocktail and simply chill out and admire the views.
TIRA PALLA – Calle Santa Lucía 8, 07800 Ibiza. 
RELAX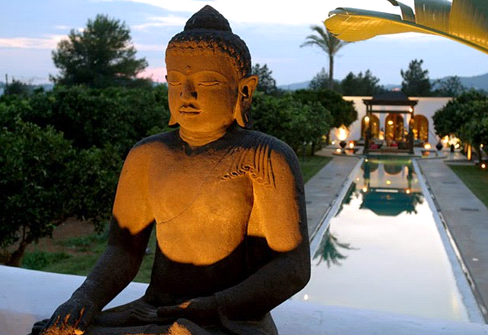 Atzaró
If you need a moment of relaxation while on holiday, the place for you is "Atzaro", an "agroturismo" hotel (rural hotel out in the countryside). This beautiful centenary ibicencan farm house is located North East of Ibiza in the San Lorenzo area. With a mixture between Balinese and Meditarranean decor, Atzaro invites you to relax and loose yourself in its immense and extravagant gardens, relaxation areas and hidden corners.
Most definitely the ideal place to relax and unwind both by day or by night, to have lunch or dinner or simply treat yourself to a massage and a swim in their fabulous pool.
ATZARO  Carretera San Juan, Km. 15. TFNO 971 33 88 38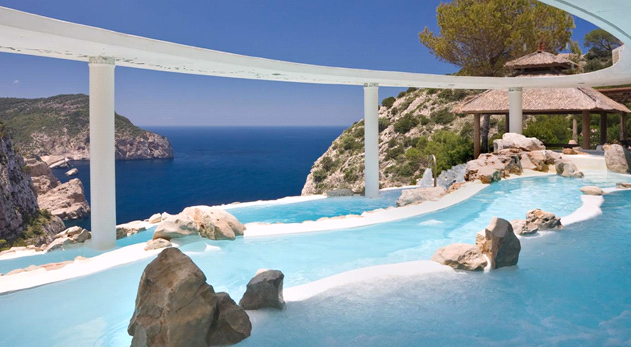 Na Xamena
If you're looking for a place to surprise someone,a place that will take your breath away then you must visit "Na Xamena". A hotel where you can spend the day, have a bite to eat and relax and enjoy the spa and swimming pools. The views from the swimming pools will simply take your breath away and you will most definitely finish the day feeling refreshed and "totally" relaxed!
Check out the various promotions they have on offer and if you get the chance take the time to visit this amazing place situated near San Miguel (North-East of the island)
NA XAMENA (Urbanización Na Xamena, s/n  San Miguel, TFNO 971 33 45 00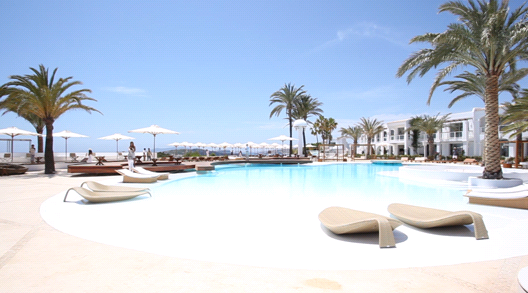 Destino Pacha Ibiza Resort
Destino is Pacha's new Hotel Resort and is situated high up in the mountains near Talamanca (Ibiza).
It's a fabulous place with stunning views out to sea, the perfect place to spend an enjoyable day by the pool, relaxing in their 20 seater jacuzzi and maybe having a bite to eat sitting in one of their Balanese style huts. Destino is not only great by day but also by night where you can enjoy a meal and dance the night away to the sounds of some of the best Residant D.j's on the island at their club "Tox".
DESTINO PACHA IBIZA RESORT  Avda Cap Martinet s/n (Sta Eulalia)
Tfno  971 31 7 411.
MARKETS
What would Ibiza be without it's Hippy/Bohemian spirit? Although things have changed in recent years, the "hippy markets" still hold that special charm  and unique atmosphere. Where the essence of the Ibicencan spirit still remains.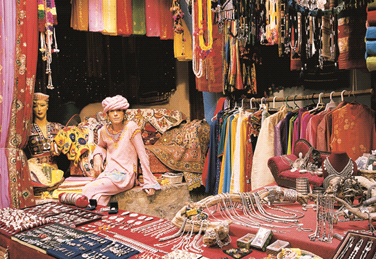 Las Dalias
This is one of the most well known markets on the island and is constantly growing with new stalls added every year.
Saturday is the main market day at Las Dalias, opening in the morning right through till 18:00 – 19:00hrs. Once a week there is a night market which opens around 7pm until late.
MERCADILLO LAS DALIAS –  San Carlos.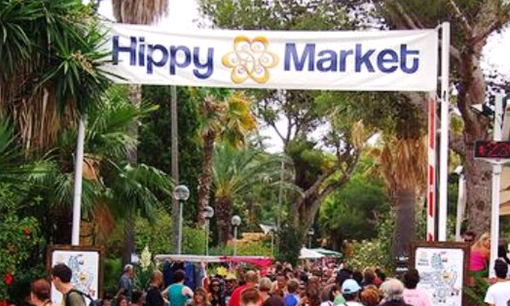 Hippy Market
This market is just up the road from us, less than a 10 minute walk away from the apartments. This is the biggest market on the island and opens every Wednesday from 9am till 18:00 – 19:00hrs
Both at Las Dalias and at The Es Cana Hippy Market you will find a variety of stalls selling jewellry, clothing, perfumes, materials, decorative elements such as paintings etc… and many  other interesting artefacts
HIPPY MARKET – PUNTA ARABI (Es canar) 
NIGHT CLUBS
For the night clubs we will just give you a very general feel, pointing out the most well known clubs on the island and the parties they are famous for.
If you are looking to get free passes or discounted tickets we recommend you go to Las Salinas Beach or Playa den Bossa Beach, where you will find all the "ticket touts".
However we also sell discounted tickets in reception (usually between 5€ and 10€ cheaper than on the door)
It's important you check which parties are on and on what nights, so you can arrange which ones you are interested in going to, as some you may not like.
-          Pacha (Flower Power Party, Ibiza's original "hippy party" and one of our favourites!)
-          Amnesia (La Troya)
-          Space (Carl Cox)
-          Privilege (Supermartxe)
-          Ushuaia & Hard Rock Hotel (Here the party begins in the afternoon around about 18:00hrs more or less and goes on right the way through till 00:00hrs) 
BEACHES AND COVES
 NORTH – Portinaxt Area
Cala Xarraca
Small little beach with crystaline waters perfect for snorkelling as it is quite rocky. Also known for its natural mud bath, to the left of the beach, said to have healing properties both for the body and skin.
Punta Galera
This is another of Ibiza's legendary places. The ideal place to sunbathe, relax and meditate… Just simply unwind on the fabulous plateaus.
Benirrás
One of the most well known beaches in the North part of the island. Famous for its spectacular sunsets, Benirras is a must on Sundays to watch and listen to the "hippie Drumming" which starts at sunset and carries on till later.
Es Síllot
Small rocky beach. Tranquil and secluded, this little beach is quiet and doesn't get very busy.
SOUTH- Near the airport
Las Salinas
The longest beach on the island and where you will catch the parades promoted by the various clubs.
Sa Caleta
This is a small and secluded beach, surrounded by dramatic red cliffs. Home to a fabulous restaurant we recommend you get there early as it gets quite busy.
Cala D´Hort
Small and tranquil beach, where as previously mentioned, you can spend the day where you can enjoy a great paella or hire a "zodiac" and go for a spin and visit the mysterious island of Es Vedra just off shore from cala D'Hort.
EAST- Santa Eulalia Area
Aguas Blancas
This is one of the prettiest beaches on the island due to its incredible coastal setting and crystal clear waters. We recommend you get there early as once the sun goes down over the cliffs behind the beach, it gets shaddy quite early in the afternoon. It is an official nudist beach, but still very mixed, some go naked others don't….Your choice

Cala Nova
Small beach in the Es Cana area and only a 10/15 minute walk
from the apartments. On cala Nova there are two great beach bars: "El Chiringuito" and "Atzaro Beach".
Cala San Vicente
One of the biggest beaches to the North of the island. Plenty of restaurants that line the back of the beach and several supermarkets where you can shop for food and have a picnic on the beach.
Cala Llenya
If you are on holiday with your family then this is the perfect beach for you! A quite beach with fine white sand and beautiful clear waters, lined by a valley of sloping pines, this beach is ideal for a family day out.
WEST – San Antonio Area
Cala Compte
Beautiful sandy beach with crystal clear waters, this beach is a definite must while in Ibiza! Where you can enjoy a full day and stay and watch a fabulous sunset.
Cala Bassa
This beach is very near to Cala Compte. Sandy, tranquil beach surrounded by various beach clubs.
Cala Salada y Cala Saladeta
Cala Salada is a perfect beach for families. However the fun part of this visit is walking over to it's smaller sister beach, Cala Saladeta. A bit of a hike but definitely worth it…You're in for a real treat, it's a real gem!
City of Ibiza area
Cala Olivera
This serene little cove is located in the Roca Llisa Urbanization (Jesus). The road leading to it is a little country road. Although it's small and quite secluded there is a bar where you can enjoy some refreshments.
S´estanyol
Small and tranquil little cove. Like Cala Olivera, it is also in Jesus, and is also the perfect place to get away from the hussle and bussle.
OUR FINAL WORDS OF ADVICE
We would like to take this opportunity to give you a little bit of advice to help make your stay on the island the perfect holiday….And a Great Adventure!
- Hire a Car and discover all corners of this wonderful island: its beaches and coves, its countryside and mountains, its charming "payes" villages…Simply let yourself go and enjoy!
- Visit the streets and port of Ibiza Town. Take an afternoon out and spend it walking through the quaint streets of the port area and the "Old Town" of Ibiza. Here you will discover wonderful little boutiques selling "Adlib Clothing" (the famous white Ibicencan dresses etc…), Jewellery, Arts and Crafts and many more interesting and original items …You will most definitely find something for everyone!
- The Fortress, A definite must while on the island is a visit to the "historic" Dalt Vila and its Cathedral. Enjoy a walk around the cobbled streets of the "Old Town" of Ibiza . Although some streets are a bit steep, reaching the top is an absolute treat…The views from up high are amazing! Definitely worth a visit!
- If you have time, we would highly recommend you catch a ferry and take a day to visit Formentera. There are regular ferries that not only leave from the Port of Ibiza but also from various other points of the island including Es Cana. Don't forget to use a high factor sun cream as the sun reflects off of the white sands and you can easily burn.
If you can, hire a motorbike to visit the island as its a quick and easy way to get around. However don't worry as there are regular bus services to all points of the island including beaches. Formentera is an absolute paradise and well worth visiting!
Choose your own personal ZodiacMundi Adventure
INFO
IBIZA
General Emergencies: 112
Medical Emergencies: 061 (Ambulance)
Doctor Es Cana 24 Hours. Dr. Alberto Ciria:
(0034) 971 338 818 or (0034) 629 58 14 77
Private Hospital: (0034) 971 301 916
National Health Hospital: (0034) 971 39 70 00
Firemen: 080 / (0034) 971 31 30 30
Civil Guard (Police) Santa Eulalia:
062  (0034) 971 33 02 27
Local Police Santa Eulalia:
(0034) 971 33 08 41
Maritime Rescue: (0034) 900 202 202
Red Cross:
(+34) 971 39 03 03 / 902 22 22 92.
Taxis
Es Cana: (0034) 971 333 333
Sta. Eulalia: (0034) 971 333 033
Ibiza: (0034) 971 398 483
San Antonio : (0034) 971 343 764