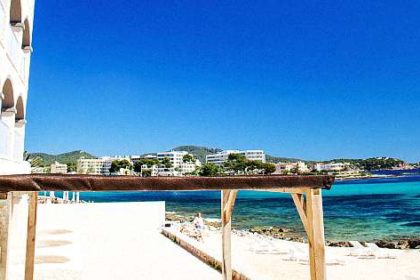 We all know that Ibiza is an incredible place to enjoy an amazing holiday. Ibiza's beaches, restaurants, parties and long list of summer events makes it the perfect place with plenty to do for everyone.
When you visit Ibiza there are several points to consider. The white island has different resorts and areas to suit everyones tastes and needs.  Places for families and couples, places for the young wanting to party, a wonderful choice of nightclubs and night life, markets etc…..
For this reason we've put together 10 reasons why you should choose Es Cana as your holiday destination in Ibiza:
If you hire a car (a real must when visiting Ibiza to get to see all of it's charm ) parking in es Cana is free!!!
Situated in the municipality of Santa Eulalia, Es Cana is a great place for families and couples of all ages!
Being in the North part of the island we are near to some of the best restaurants in Ibiza.
There is a wide choice of sandy beaches and/or rocky coves in the area.
From 00:00hrs music and general noise levels from all local businesses is reduced, making Es Cana the perfect place for a restful and relaxing holiday.
As the resort is mainly for families and couples there are no major night-clubs in the area to cause overcrowding and noise.
The two major markets on the island are both held in the area; Es Cana Hippie Market and the Las Dalias Market in San Carlos.
For diving enthusiasts, there are diving schools both in Es Cana and in Santa Eulalia.
Es Cana has its own little harbour from which there are daily ferries to Formentera and other ports on the island.
Finally and most important, Ibiza is beautiful by day and by night, for this it is important to find the ideal location that best suits you.
On behalf of all of us at the Zodiac , we hope this has helped you choose where to stay in Ibiza.
If at some point we have the pleasure of having you to stay with us or you're passing by, pop in to reception and we'll gladly give you a map of the island and help you plan out your days to make your stay in Ibiza 100% perfect!
If you're wanting to relax and unwind for a few days and be spoilt…